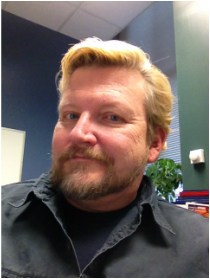 Assistant Production Manager including Graphic Design Staff Manager

The Assistant Production Manager position is the combination of Project Management and Creative Resources. The nature of this position is to be aware of tight deadlines and have the knowledge of how to get a job produced. Because my background includes Graphic Design, Photography and Editorial Skills many jobs get moved along quickly and efficiently and I do not mind being a working manager. It's all about teamwork.
The Assistant Production Manager also coordinates some Special Section content, using writing, imagery and sold sales requests (usually in the form of an Advertorial). It encompasses around themes such as She Means Business, Holiday Shopping or the Best of Awards for a given business community to mention a few.
The position requires knowledge of where to find copy and also be able to assign articles to freelance writers. Written communication skills along with organizational skills are demanded for this position.
Understanding print production, graphic design and editorial AP style is very helpful. The workflow for this position can be erratic and one must always be able to think quickly and be able to keep on schedule and meet unbending deadlines.
Recent developments also include keeping an eye towards Digital Age Developments.
This is an ever-changing position of duties and the position is challenged with daily questions from sales staff and customers. Although the position is not one of selling it does require skills in Customer Service and being able to turn bad into good. Note keeping and handling of email is crucial as a daily task, as well as being able to handle the daily work but also keeping in mind those upcoming projects. This position reports to the Product Integration Director.


The DISCOVER sections:
The Process:
• Coordinate and identify all possible resources:
- Business Chambers
- City Clerks
- Newspaper Editor for the area
- Staff photographer
- Sales Manager for the Territory
- Sales Person for the Territory
• Phone calls with a follow-up email that includes the request for new ideas and photos.
• Calculate the amount new changes needed.
• Expected sales = Number of Pages Available
• Review last year's publication with Account Manager
This is also the time that I review any new needs the Account Manager of the area would like to make.
— This includes extra Business Categories
— Customer requests
• Create a reasonable calendar of expected deadlines: A very large portion of workflow requires pushing resources along the way (without upsetting them), making appointments for conversations and time to review the dates of happenings in the designated areas.
• Review the entire project with Graphic Designer this includes cover design.
• Create galleys from the previous years publication: This does include the Business Listings.
• Every topic of the book is separated out into separate word documents.

Sample List:
• Intro of Book
• Calendar of Events for the year
• Event Descriptions
• City info, Police, City Hall - important Numbers
• City Maps along with indicators
• Government Office for the territory
• Boards of Education
• Creating galleys from the previous years publication
• District Contacts for the schools
• Events at the schools
• Historic Groups
• Community Organizations
• Churches
• Historical Sites
• Places of Interest
• Schools

• The galleys are reviewed by the Publishing Resource manager attempting to confirm as much information
from websites and phone conversations (when possible)
• Then these sections are emailed to resources: specific for that topic.
• A week before they are due gentle reminders are sent out and we ask if there will be any problems and if there is a problem please let us know ASAP.
• Once the galleys are returned they need to be processed. This step is spell checked and placed into NewEdit. The NewsEdit process is time-consuming because the various headers, body styles and call outs.
• The copy and the page plans are released and the project is then turned over to the graphic designer
• When the book is finished. Low res PDFs are sent out to all the resources that we originally received help from, including the Editor.
• Corrections are then made to the originals and one final print out is made for a final look through.
• A general Thank You email is sent out and telling them is was a pleasure to work with them on the project and that we'll be doing it again next year.
There are four Community Directories: first one of the year is Discover Huron Valley followed by Discover Northville, Discover South Lyon and finishing with Discover Novi at the end of April.

Later in May we create The BIRMINGHAM CITY GUIDE. This guide requires the same attention to details and I use the same steps shown here
• REGIONAL MARKET PLACE ADVERTORIAL •
Devz Pharmacy • Located in Canton Michigan
As the new year starts to roll in. I received my first Regional Marketplace Advertorial, the business is Devz Pharmacy, and it it owned by Dev Mata who likes the business practices of all the businesses in Canton, Michigan. I was very touched by his story and the things he had to overcome in his lifetime.
First thing we did was take some pictures and walk through the store with camera in hand.
The early morning light was perfect for an outdoor shoot.

All the pictures for this project were shot with a a hand-held point and shoot.

The photo above has been slightly retouched in Photoshop a larger version is available on my photography page.
(Click the image to take you there)

Panasonic/Lumix, Model No. DMC-ZS19
Then we chatted for a while and I wrote his story.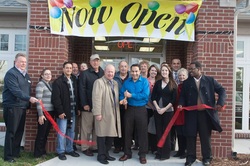 By Dennis Zelazny
Contributing Writer

What if I could tell you that there is a new pharmacy in Canton that is warm and friendly, and the owner Dev Mata, RPh., strongly believes in community efforts and our children's future? It recently happened…Welcome To Devz Pharmacy & More!

Devz Pharmacy in Canton opened on November 22, 2013, and is quickly becoming a community anchor. Dev welcomes new visitors at the door with a warm friendly smile and possesses a sincere; take-the-time-to-get-to-know-you attitude. "We are not just another chain pharmacy. We look forward to building a relationship with you, our reoccurring customer, and making your each and every visit a personal one," says Dev.

Unlike other drug stores in the area, Dev included and developed a Community Art Wall. Devz Pharmacy has dedicated a mural area to the students of the community. Ten spaces, which measure 29 x 22 inches, were made available, and students were selected from the Canton schools to participate in this "permanent" project. Dev is determined that this, a first of many projects will and always will be part of the store and the Canton community.

All the students received a certificate of recognition and $30.00 - $50.00 for their time to create the art. Coming this spring of 2014 as part of the Grand Opening Celebration, those artists will have a chance to win Grand prizes which include $100.00, $200.00, and the most votes wins $300.00 Then imagine coming into the store in about 20 years and their artwork will still be on display as a permanent part of the pharmacy wall. Other efforts, which are in the planning stages, include supplying canvasses for new projects and those will be hung throughout the store. Watch for details to be released soon.

I'm sure you are wondering why? The "local" owner Dev Mata, RPh. has a background in the arts and continues his own development thru acrylics, watercolor and pencil. He believes in helping children develop through expressions in art. To him and many others it is a logical choice in developing young minds. His plans include employing local students to help run the front counter which will include Dev helping them understand the pharmaceutical business as well as marketing and retail solutions.

Dev graduated in 1989 from Wayne State University in Detroit, Michigan with a BS in Pharmacy. He has over 25 years of experience in the Retail Pharmacy industry. He is originally from Afghanistan and left the country during a Russian invasion in 1979. After arriving in New York in 1982 Dev made his way to Detroit. He is most grateful to the Ferndale Oak Park Adult Education Programs. Dev encourages his children, Michael, Loren and Lucas to study hard and also be part of the community. If you have the time Dev will be more than happy to chat over coffee in the beverage area. Something else the other local pharmacy stores do not offer. The coffee/snack bar area is surrounded by many windows, which creates a welcoming spot to wait for your prescriptions or to simply stop and relax for a few minutes.

Devz Pharmacy is working to gain your trust as your local pharmacy providing quick, quality services. Offering both generic and name brand prescription drugs for your convenience. Additionally, you can also find common medical supplies and diabetic products. The pharmacy accepts most major insurance policies and offers local delivery so you don't have to leave home!

But they really would like for you to come visit the store.



A simple headline: Come Visit a Different kind of Pharmacy Store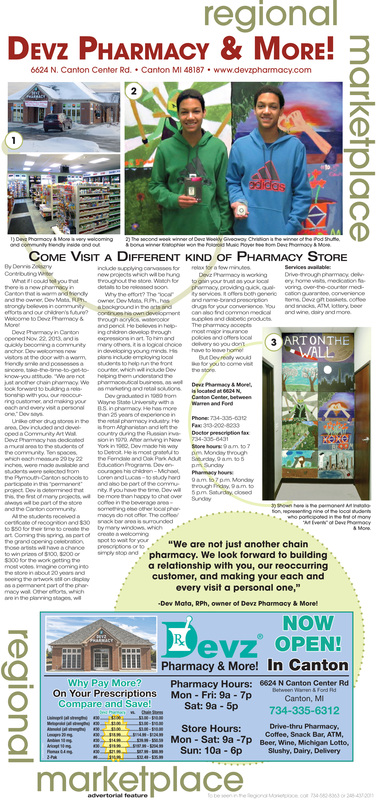 Dev and I had some correspondence which went like the following:
Good Afternoon Dev,
Thank You again for such a nice visit the other day.
I am including a word doc that contains your story please feel free to edit. The only regrets is that we keep the word count as close as we can to what I have so it will fit into your Advertorial.
I also took the liberty of laying in the story and also the photos.
Note we will need cut lines for the photos and also the space at the bottom is for your Ad.
Thank you again it was a pleasure to work with you.
Dennis


Dev responded:
Hello Dennis,
It was pleasure meeting you too.
Here are few changes I would like to make.
-You can mention my name instead of last, it's how we pharmacists like to be called, on first name bases..
All Mata, please change them to Dev, except on first paragraph, during the introduction.
-"pharmaceutical" to "drug" store , 3rd paragraph.
-Grand prizes include $100.00, $200.00, and the most votes wins $300.00
-It's Ferndale-Oak Park Adult Education ( Not Highland.. sorry).
Thank you for the wonderful article,

Dev Mata, Rph., CEO
Mata-5 Inc.
Devz Pharmacy
2013 Regional Market Place Ads